In the late 1800's, few people could afford insurance. There was no social security, inexpensive life or other governmental programs in the United States. Fraternal orders began to provide for the insurance needs of their members. This could even include members of different groups such as unions, professional societies, and investment associations.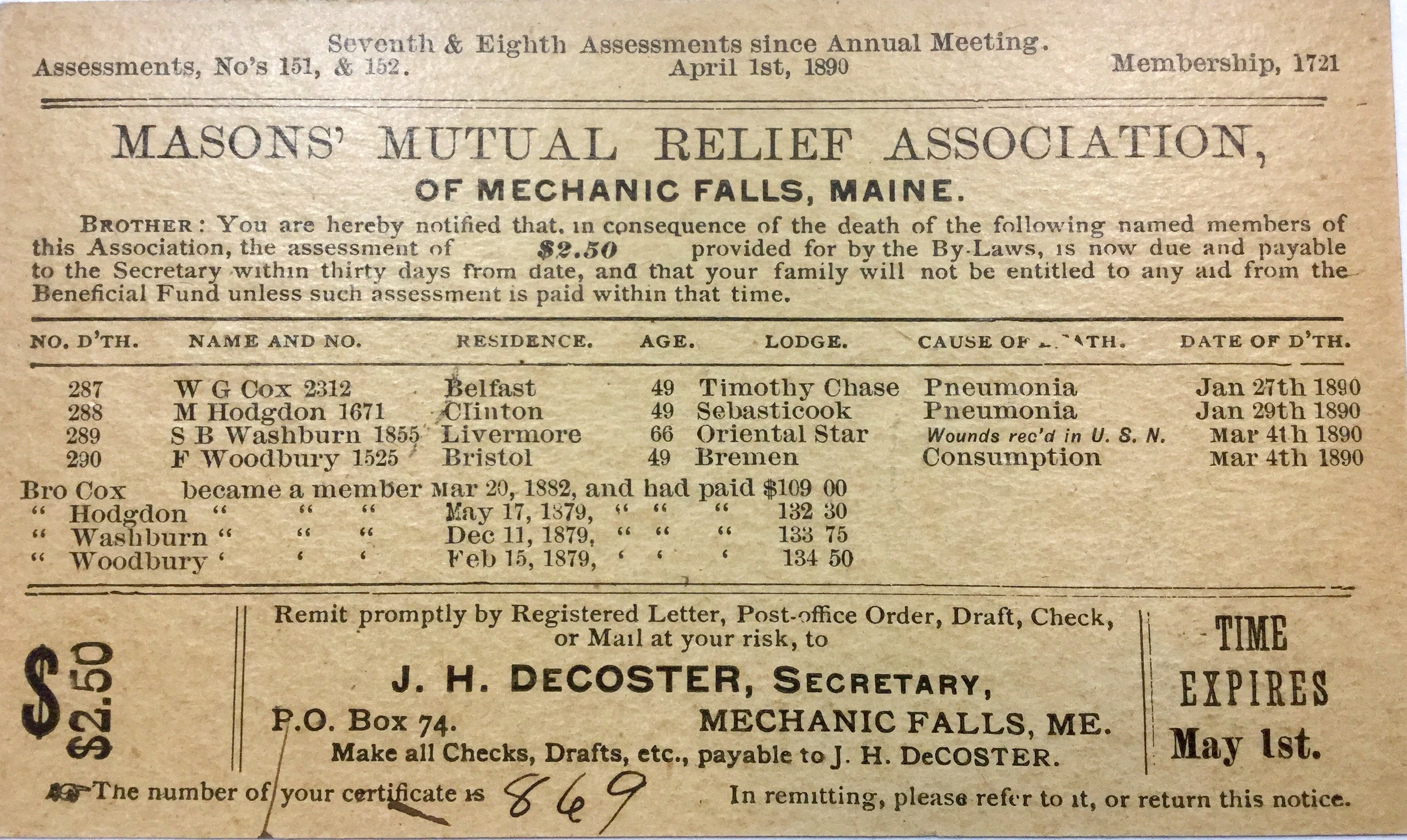 Each member was assessed. The names of the deceased are included.
How it went was, each person in the group paid a certain amount to become an insured member. Whenever a member died, each of the remaining members would be assessed (in this case, $2.50). Most of the monies would be paid to the deceased's beneficiary. A small amount was retained to defray operating expenses.
Most of the expenses were incurred through the purchase of specially printed United States Postal Cards (seen here). They were used to notify members of assessment.
130 years ago, members of the Mechanic Falls, Maine Masons were assessed due to payouts for four deceased members. Those members are named on the card, as well as their age and cause of death -! (It was a bad year to be 49 years old... those men would have likely served in the Civil War... pneumonia was a common way to go...)
This postal card is Jefferson Facing Right, "Nothing but the Address to be on this Side." Is was postmarked April 1, 1890, less than a month after two of the men died... pretty quick.
Some information about the men who passed away:
Fernando WOODBURY
Title: Capt.
Birth: 30 NOV 1840
Resided: Bristol
Died: March 4, 1890 of consumption (age: 49)
William G COX
Sept 2, 1866, Mr. Cox of Searsmont married Abbie H. Bean
Jan. 27, 1890 William G., 49, son of the late Israel Cox, and proprietor of the Windsor Hotel.
(On Jan. 2 of that same year his father Israel Cox, 86 died. He was a native of Lincolnville, and Sheriff of Waldo County in 1841. For nearly thirty years, in connection with Bohan Prentice Field, he conducted a large insurance business.)
Cause of death for William was pneumonia, age: 49
Alfred M HODGDON
BIRTH
1840
DEATH
29 Jan 1890 (aged 49)
Cause of death pneumonia
BURIAL: Old Village Cemetery, Clinton, Kennebec County, Maine
Samuel Benjamin WASHBURN
Born 1824, died March 4,1890 Age 66
Cause of death: "wounds received in USN"
"The only seafaring son [in his family], Samuel shipped out at age 18 and later became the master of his own vessel. During the Civil War, Samuel was Acting Master in the U.S. Navy and became an officer on the gunboat Galena. During battle, he was wounded in the hip, which left him lame for the rest of his life. His first wife, Lorette May Thompson, died in 1869. He married Addis Brown Reade in 1872, one year after returning home to Livermore to care for his aging father. Samuel had five children."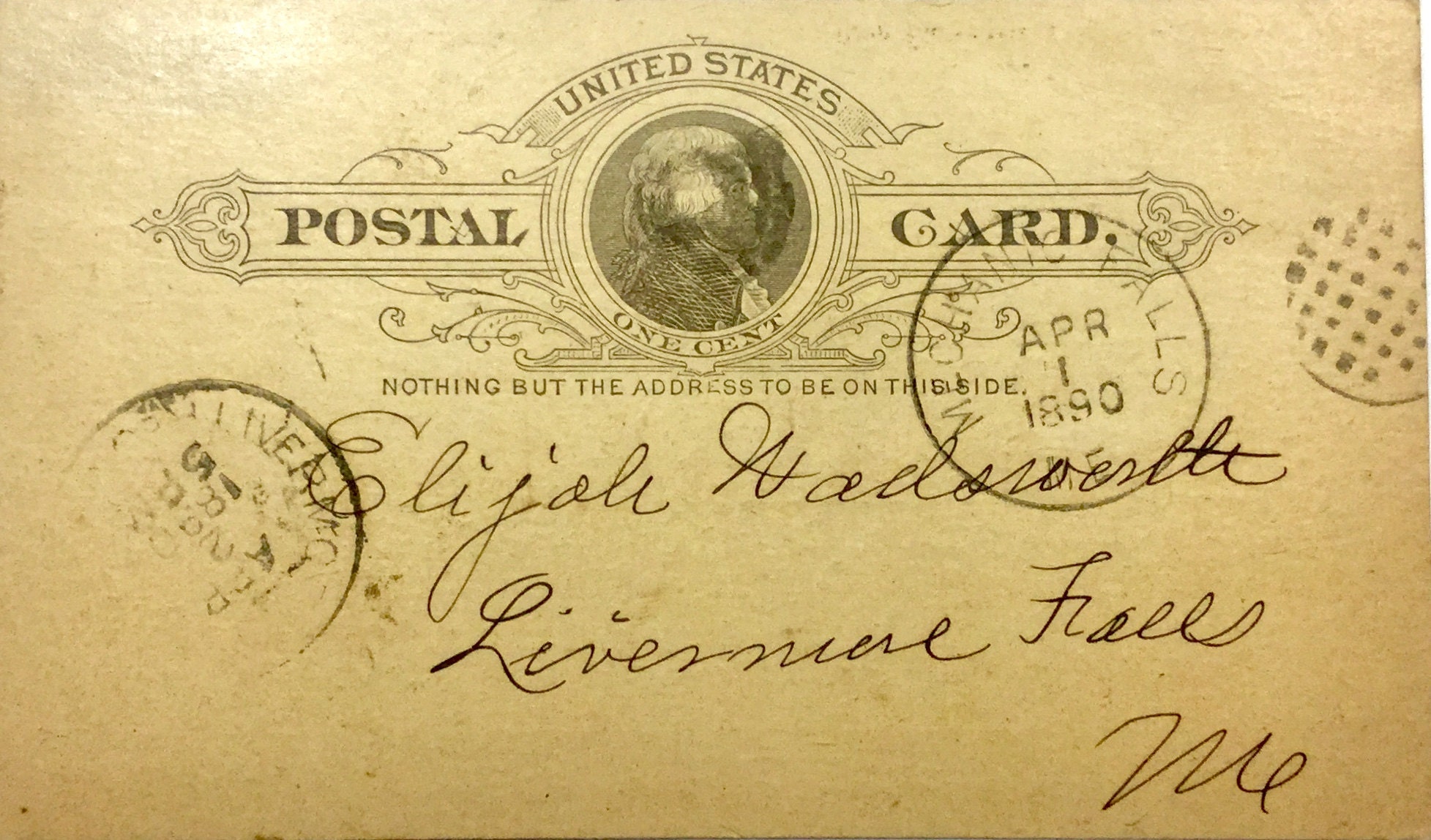 Addressed to Elijah Wadsworth
J. H. Decoster, who mailed the card was a town treasurer and postmaster for Mechanic Falls, Maine.
Even the addressee, Elijah Wadsworth, had a famous son.
What an interesting piece...
Check out this listing in my Etsy shop!